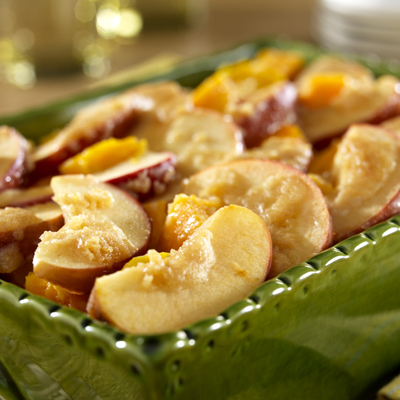 Ingredients

1/3 cup Splenda No Calorie Sweetener, Granulated
1 teaspoon molasses
1/4 cup light butter
2 tablespoons all-purpose flour
1 teaspoon salt
1/2 teaspoon ground mace
2 pounds butternut squash - peeled, seeded, and cut into
1/2 inch slices
2 large apples - cored, and cut into 1/2 inch slices

Directions

Preheat oven to 350 degrees F (175 degrees C).
In a medium bowl, stir together Splenda Granulated Sweetener, molasses, butter, flour, salt, and mace. Arrange squash in an ungreased 9x13 inch baking dish. Top with slices of apple, then sprinkle with the sugar mixture. Cover with a lid or aluminum foil.
Bake for 50 to 60 minutes in the preheated oven, or until squash is tender.
Notes:
This recipe combines all the best fall flavors and makes a great alternative to the candied yams often served for Thanksgiving dinner.

Recipe Yield: Yield: 8 servings``Serving Size: 3/4 cup squash and apple bake
Content Continues Below ⤵ ↷
Nutritional Information Per Serving:
Calories: 120
Fat: 3.5 grams
Saturated Fat: 2 grams
Fiber: 4 grams
Sodium: 340 milligrams
Cholesterol: 10 milligrams
Protein: 2 grams
Carbohydrates: 24 grams
Sugars: 9 grams


Source: Splenda
Recipe and image appear courtesy of Splenda.