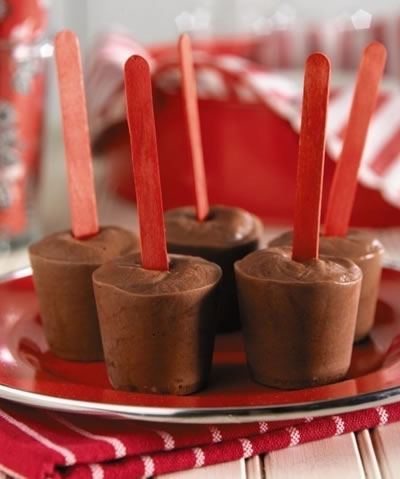 Ingredients

1 (8 ounce) container plain nonfat yogurt
1/4 cup sugar-free cocoa mix
1/4 cup Splenda No Calorie Sweetener, Granulated
4 popsicle sticks

Directions

Mix all ingredients in a small mixing bowl. Spoon mixture into four, 3 ounce paper cups. Set cups in a muffin pan or on a flat plate. Place popsicle sticks in the center. Freeze about 3 hours or until solid.
Peel paper cups away from popsicles before serving.
Notes:
Kids will love to help you make these fun popsicles!

Recipe Yield: Serves: 4
Content Continues Below ⤵ ↷
Nutritional Information Per Serving:
Calories: 50
Sodium: 80 milligrams
Protein: 4 grams
Carbohydrates: 10 grams
Sugars: 8 grams


Source: Splenda
Recipe and image appear courtesy of Splenda.