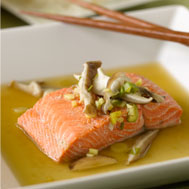 Ingredients

3 oz salmon, 1/4 cup broth
1 cup low-sodium chicken broth
1/2 cup shiitake mushroom caps, rinsed and sliced (or substitute dried shiitake mushrooms)
2 Tbsp fresh ginger, minced (or 2 tsp ground)
1/4 cup scallions (green onions), rinsed and chopped
1 Tbsp lite soy sauce
1 Tbsp sesame oil (optional)
12 oz salmon fillet, cut into 4 portions (3 oz each)

Directions

Combine chicken broth, mushroom caps, ginger, scallions, soy sauce, and sesame oil (optional) in a large, shallow saute pan. Bring to a boil over high heat, then lower heat and simmer for 2-3 minutes.
Add salmon fillets, and cover with a tight-fitting lid. Cook gently over low heat for 4-5 minutes or until the salmon flakes easily with a fork in the thickest part (to a minimum internal temperature of 145F).
Serve one piece of salmon with 1/4 cup of broth.

Recipe Yield: Yield: 4 servings.Serving size: 3 oz salmon, 1/4 cup broth
Nutritional Information Per Serving:
Calories: 175
Fat: 9 grams
Saturated Fat: 2 grams
Fiber: 1 grams
Sodium: 208 milligrams
Cholesterol: 48 milligrams
Protein: 19 grams
Carbohydrates: 4 grams


Source: Deliciously Healthy Dinners