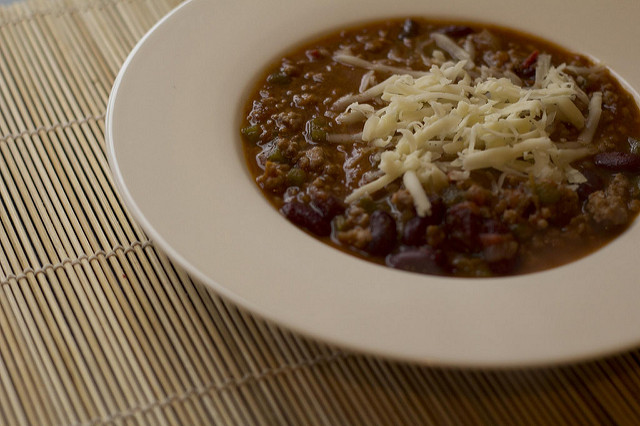 Ingredients

Vegetable cooking spray
1 pound 95% lean ground beef
1-1/2 cups chopped onions
1 cup chopped green bell pepper
2 cloves garlic, minced
1-2 tablespoons chili powder
2 teaspoons dried cumin
1 teaspoon dried oregano leaves
1/4 teaspoon ground cloves
2 cans (14-1/2 ounces each) no-salt whole tomatoes, undrained, coarsely chopped
1 can (6 ounces) reduced-sodium tomato paste
3/4 cup beer or reduced-sodium beef broth
1 tablespoon packed light brown sugar
2-3 teaspoons unsweetened cocoa
1 can (15 ounces) red kidney beans, rinsed, drained
Salt and pepper, to taste
1/2 cup (2 ounces) shredded fat-free, or reduced-fat, Cheddar cheese
1/2 cup thinly sliced green onions and tops
1/2 cup fat-free sour cream

Directions

Spray large saucepan with cooking spray; heat over medium heat until hot. Add ground beef, onions, bell pepper, and garlic; cook over medium heat until meat is brown and vegetables are tender, 5 to 8 minutes. Add chili powder, cumin, oregano, and cloves; cook 1 to 2 minutes longer.
Add tomatoes and liquid, tomato paste, beer, brown sugar, and cocoa to beef mixture. Heat to boiling; reduce heat and simmer, covered, 1 hour. Stir in beans and simmer, uncovered, to thicken, if desired. Season to taste with salt and pepper.
Spoon chili into bowls; sprinkle each with equal amounts of cheese, green onions, and sour cream.
Notes:
Image appears courtesy of Luca Nebuloni

Recipe Yield: Yield: 8 servings (about 1 cup each)
Content Continues Below ⤵ ↷
Nutritional Information Per Serving:
Calories: 220
Fat: 3.6 grams
Saturated Fat: 1 grams
Sodium: 224 milligrams
Cholesterol: 32.5 milligrams
Protein: 21.9 grams
Carbohydrates: 29 grams

Diabetic Exchanges
2 Vegetable, 1 Bread, 2 Meat

Source: 1,001 Delicious Recipes for People with Diabetes
Book Title: 1,001 Delicious Recipes for People with Diabetes