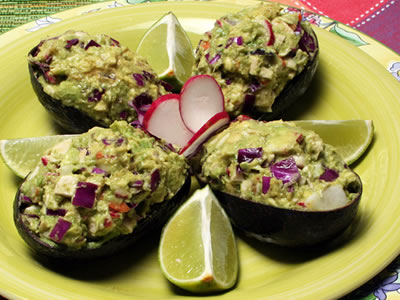 Ingredients

2 medium avocados
Juice of 1 lime
2 cups chopped cooked chicken breast, about 1/2-inch pieces
2 Tbsp. chopped red cabbage
2 Tbsp. diced carrots
2 Tbsp. diced radish
4 tsp. spicy brown mustard
1/2 tsp. garlic powder
1 tsp. extra virgin olive oil
Salt and freshly ground black pepper, to taste
Lime wedges for garnish

Directions

Carefully cut avocados in half lengthwise. Remove pits. Scoop out pulp into mixing bowl and set avocado shells aside.
Add lime juice and mash avocado. Add chicken, cabbage, carrots, radish, mustard, garlic powder, olive oil, salt and pepper to taste and mix gently to combine.
Spoon mixture into avocado shells, mounding in the center and serve immediately with lime wedges. Or serve immediately on whole-grain bread for sandwiches or whole-wheat tortilla for wraps.

Recipe Yield: Makes 4 servings.
Nutritional Information Per Serving:
Calories: 290
Fat: 16 grams
Saturated Fat: 2 grams
Fiber: 6 grams
Sodium: 146 milligrams
Protein: 29 grams
Carbohydrates: 8 grams