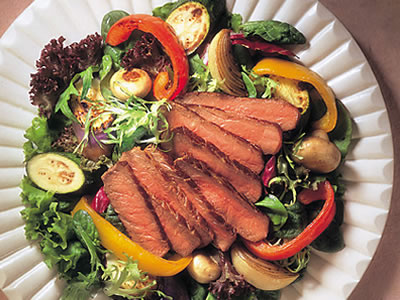 Ingredients

2 beef top loin steaks or four beef tenderloin steaks, cut 1 inch thick
8 cups torn salad greens
3/4 cup Italian dressing

Roasted Vegetables:

16 small mushrooms
1 large red, yellow or green bell pepper, cut into 1-inch wide strips
1 medium Japanese eggplant, sliced (1-inch)
1 medium onion, cut into 8 wedges
1 medium zucchini, sliced (1-inch)
2 tablespoons balsamic vinegar
2 large cloves garlic, minced
1 teaspoon dried rosemary leaves

Directions

Heat oven to 425F. Spray 15 x 10-inch baking pan with cooking spray. Place vegetables in pan; spray generously with cooking spray. Drizzle with vinegar; sprinkle with garlic, rosemary and salt and pepper. Stir to coat. Roast in 425F oven 30 to 35 minutes or until tender, stirring once. Cool slightly.
Heat large nonstick skillet over medium heat until hot. Place steaks in skillet; cook top loin steaks 12 to 15 minutes (tenderloin steaks 10 to 13 minutes) for medium rare (145F) to medium (160F) doneness, turning occasionally. Remove; let stand 10 minutes.
Carve steaks; season with salt. Arrange beef and vegetables on greens. Serve with dressing.

Recipe Yield: Yield: 4 servings
Content Continues Below ⤵ ↷
Nutritional Information Per Serving:
Calories: 418
Fat: 24 grams
Saturated Fat: 4 grams
Fiber: 8.7 grams
Sodium: 849 milligrams
Cholesterol: 56 milligrams
Protein: 3 grams
Carbohydrates: 23 grams


Source: NCBA