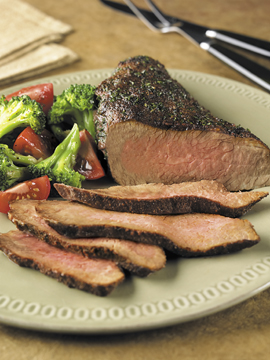 Ingredients

1 beef tri-tip roast (1-1/2 to 2 pounds)
Salt and pepper

Rub:

1 tablespoon chili powder
2 teaspoons ground cumin
1 teaspoon onion powder
1/2 teaspoon garlic powder
1/4 teaspoon pepper

Directions

Heat oven to 425F. Combine rub ingredients in small bowl; press evenly onto all surfaces of beef roast.
Place roast on rack in shallow roasting pan. Do not add water or cover. Roast in 425F oven 30 to 40 minutes for medium rare; 40 to 45 minutes for medium doneness.
Remove roast when instant-read thermometer registers 135F for medium rare; 150F for medium. Transfer roast to carving board; tent loosely with aluminum foil. Let stand 15 minutes. (Temperature will continue to rise about 10F to reach 145F for medium rare; 160F for medium.)
Carve roast across the grain into thin slices. Season with salt and pepper, as desired.

Recipe Yield: Makes 6 to 8 servings
Nutritional Information Per Serving:
Calories: 164
Fat: 7 grams
Saturated Fat: 3 grams
Fiber: 0.8 grams
Sodium: 61 milligrams
Cholesterol: 6 milligrams
Protein: 23 grams
Carbohydrates: 1 grams


Source: The Beef Checkoff