Walnut Recipes
Home / Diabetic Recipe Archive / Nut Recipes
Walnut Recipes
One ounce of walnuts contain about 185 calories, 4 grams of carbohydrate, 3 grams of fiber and 4 grams of protein per serving. Walnuts are also a great source of essential fatty acids. Walnuts can be eaten alone, or as an ingredient in everything from appetizers and desserts to main dishes. Walnut oil is used mostly as a food ingredient, such as in salad dressings. Because walnut oil has a low smoke point, it is not recommended for frying foods. The walnut recipes featured here include nutritional information and diabetic exchanges to make meal planning for diabetes easier.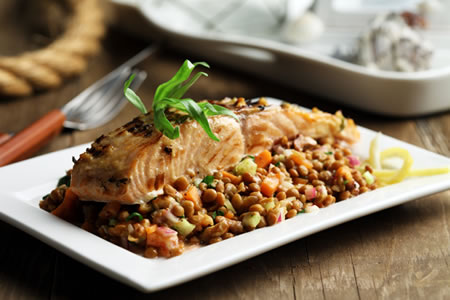 Recipe for Grilled Salmon Over Lentil Salad with Walnut Vinaigrette from our Seafood recipe section.
Most Downloaded Recipes in this Collection
All Recipes from this Category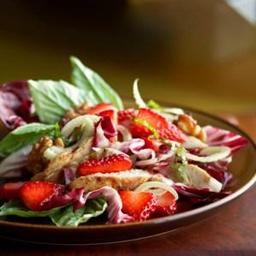 Grilled chicken breast is combined with a roasted garlic vinaigrette to create a healthy and exciting salad or main course. Recipe for Chicken, Strawberry and Fennel Salad from our recipe section.

View / Load More from: Walnut Recipes