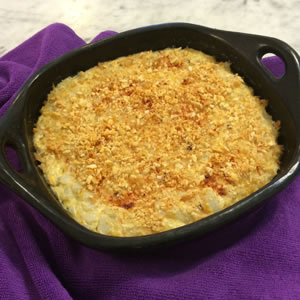 Ingredients

2 (8 oz) packages Skinny Noodles Macaroni
1 (10.75 oz) can condensed cream of mushroom soup
1/2 Cup fat-free sour cream
1 (6 oz) can tuna, drained
1-1/2 Cup shredded cheddar cheese
1/2 Cup chopped onions
1 egg, whisked
Salt and pepper to taste
1/2 Cup finely crushed potato chips
1 pinch paprika

Directions

Pre-heat oven to 400F.
Open packages of Skinny Noodles Macaroni into a colander.
Rinse with warm water and drain well. Pat dry noodles with paper towels.
Heat a nonstick frying pan over medium heat.
Add noodles and dry fry for 3-4 minutes; turn off heat and let sit.
In a large bowl mix all ingredients except potato chips and paprika. Add Skinny Noodles and mix again, add salt and pepper to taste.
Transfer content to a lightly greased 1.5 quart casserole dish, sprinkle top with crushed chips and paprika and cook for 30 - 35 minutes.
Remove from heat and let sit for 10-15 minutes before serving.
Notes:
Using Skinny Noodles Macaroni instead of regular macaroni cuts more than 200 calories and 40 grams of carbohydrates per serving.

Recipe Yield: Makes 6 servings
Content Continues Below ⤵ ↷
Nutritional Information Per Serving:
Calories: 299
Fat: 15 grams
Fiber: 4 grams
Cholesterol: 73 milligrams
Protein: 18 grams
Carbohydrates: 23 grams


Source: Skinny Noodles