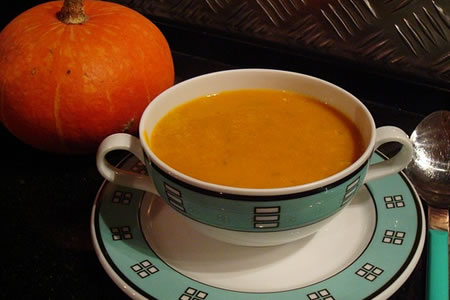 Ingredients

2 teaspoons margarine
3/4 cup chopped onion
One 16-ounce can pumpkin puree (not pumpkin pie filling)
2 cups Homemade Chicken Broth OR canned reduced-sodium chicken broth
2 teaspoons sugar
1/2 teaspoon salt
1/8 teaspoon ground cloves or ground nutmeg
1 cup fat-free milk

Directions

Melt the margarine in a medium saucepan. Saute the onion until softened, about 5 minutes.
Add the pumpkin, broth, sugar, salt, and cloves; stir to mix well. Bring to a boil; reduce the heat and simmer for 15 minutes.
Puree until smooth in a blender or food processor. Return to the saucepan. Add the milk; heat thoroughly but do not boil. Serve at once.

Recipe Yield: Yield: 5 servings (1 cup each)
Nutritional Information Per Serving:
Calories: 89
Fat: 3 grams
Sodium: 318 milligrams
Cholesterol: 1 milligrams
Protein: 4 grams
Carbohydrates: 15 grams

Content Continues Below ⤵ ↷
Diabetic Exchanges
1 Starch

Source: The New Family Cookbook for People with Diabetes
Book Title: The New Family Cookbook for People with Diabetes