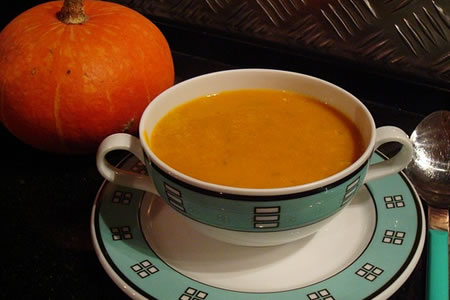 Ingredients

4 cups low-sodium vegetable broth, divided
4 cups pumpkin puree (canned or fresh) (butternut squash may be substituted)
1 cup finely chopped onion
1 clove garlic
1 tsp. fresh thyme, chopped
Salt and freshly ground pepper to taste
2 Tbsp. light whipping cream (optional)
1 tsp. fresh parsley, chopped
Nutmeg (optional)

Directions

In large pot over medium-high heat add 3 cups broth, pumpkin, onion, garlic, thyme, salt and pepper. Bring to boil. Reduce to low and simmer uncovered, about 30 minutes.
Puree mixture until smooth, in small batches, using blender or food processor. Return to pot. Bring to boil. Reduce heat to low and simmer uncovered for another 30 minutes. Add remaining broth as desired. (Optional, stir in cream.)
Pour into bowls. Garnish with parsley (or sprinkle of nutmeg) and serve.

Recipe Yield: Makes 8 servings.
Nutritional Information Per Serving:
Calories: 71
Fat: 1 grams
Saturated Fat: 1 grams
Sodium: 284 milligrams
Protein: 3 grams
Carbohydrates: 16 grams


Source: AICR
Recipe and image appear courtesy of American Institute for Cancer Research.