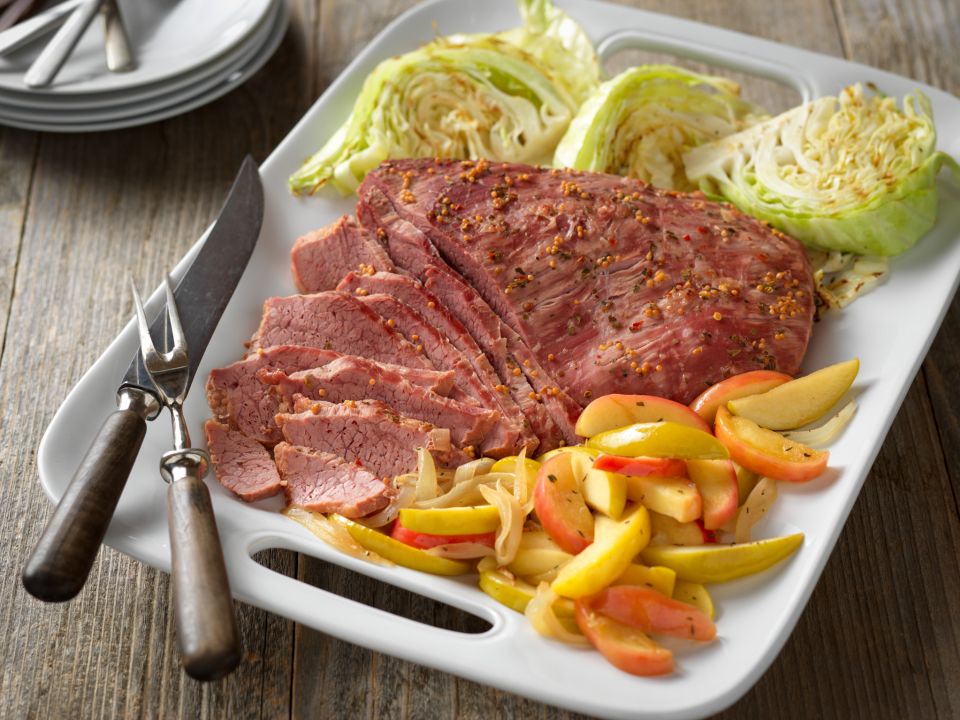 Ingredients

1 boneless corned beef brisket with seasoning packet (2-1/2 to 3-1/2 pounds)
1 large onion, coarsely chopped
5 cloves garlic, coarsely chopped
1-1/2 cups apple cider or apple juice

Apple-Onion Saute:

3 tablespoons butter, divided
2 medium onions, cut into thin wedges
1 medium Granny Smith apple, cut into 1/4-inch thick slices
1 medium McIntosh apple, cut into 1/4-inch thick slices
1 medium Golden Delicious apple, cut into 1/4-inch thick slices
1/2 cup apple cider or apple juice
1 tablespoon brown sugar
1/2 teaspoon dried thyme leaves

Directions

Heat oven to 350F. li> Place corned beef brisket in roasting pan; place coarsely chopped onion and garlic around brisket. Sprinkle contents of seasoning packet over brisket. Add 1-1/2 cups cider; cover tightly with aluminum foil. Braise in 350F oven 2-1/2 to 3-1/2 hours or until brisket is fork-tender.
Meanwhile, prepare Apple-Onion Sauté. Melt 2 tablespoons butter in large nonstick skillet over medium heat. Add onion wedges; cook 13 to 15 minutes or until onions are lightly brown, stirring occasionally. Add apples, remaining 1 tablespoon butter, cider, brown sugar and thyme; cook and stir 6 to 8 minutes or until apples are crisp-tender.
Carve brisket diagonally across the grain into thin slices. Serve with Apple-Onion Sauté.

Recipe Yield: Yield: 6-8 servings.
Content Continues Below ⤵ ↷
Nutritional Information Per Serving:
Calories: 375
Fat: 22 grams
Saturated Fat: 9 grams
Fiber: 2.6 grams
Sodium: 977 milligrams
Cholesterol: 98 milligrams
Protein: 16 grams
Carbohydrates: 28 grams


Source: TBC
Recipe and photo appears courtesy of Cattlemen's Beef Promotion Board.