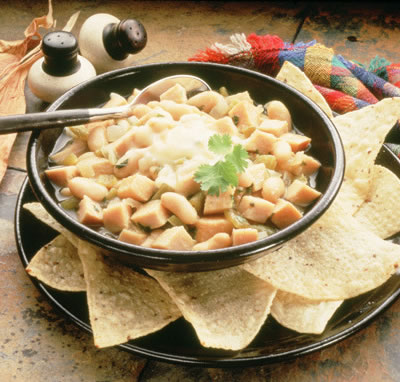 Ingredients

2 tablespoons: olive oil
2 cups: chopped onion
2 cups: chopped celery
2 quarts: pulled or cooked turkey breast, chopped
50 ounces: white kidney beans, rinsed and well drained
44 ounces: white shoepeg corn, undrained
8 ounces: green chilies, chopped
2 quarts: turkey broth
2 teaspoons: ground cumin
3 cups: shredded monterey jack cheese
1 bunch: fresh cilantro sprigs
As needed: tortilla chips

Directions

In a medium stock pot, heat oil over medium heat.
Add onion and celery, cook and stir until vegetables are tender.
Stir in turkey, beans, corn, chilies, broth and cumin. Combine well.
Cover and cook about 20-30 minutes, stirring occasionally until heated through.
Serve 8 ounces per serving and garnish with cheese and cilantro.
Serve with tortilla chips, if desired (not included in nutritional information).

Recipe Yield: Yield: 24 servings
Nutritional Information Per Serving:
Calories: 259
Fat: 6 grams
Sodium: 263 milligrams
Cholesterol: 37 milligrams
Protein: 21 grams
Carbohydrates: 29 grams


Source: NDOP