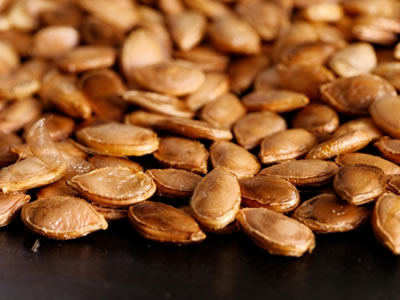 Ingredients

1 pumpkin
Optional Seasonings: salt, garlic salt, onion salt, or Cajun/Spicy seasonings

Directions

Carve the pumpkin and remove the seeds. (use the pumpkin to make pumpkin puree)
Rinse the seeds thoroughly, removing all pumpkin flesh, and blot dry with paper towels.
Preheat oven to 375F.
Spread seeds evenly on an ungreased cookie sheet and bake for 10-12 minutes or until the seeds are crisp and slightly browned.
Optional: You can sprinkle lightly with salt, garlic salt, onion salt, or Cajun/Spicy seasonings, if desired.

Recipe Yield: Serving size: 1-ounce
Nutritional Information Per Serving:
Calories: 125
Fat: 5 grams
Saturated Fat: 1 grams
Sodium: 5 milligrams
Protein: 5 grams
Carbohydrates: 15 grams