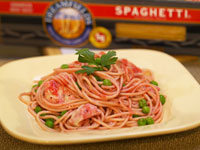 Ingredients

8 oz Dreamfields Spaghetti
8 oz. sweet garden peas
8 oz. canned albacore tuna, drained well
4 tablespoons low-fat vinaigrette dressing.

Directions

Boil spaghetti until al dente (approximately 9-11 minutes) and drain.
While the pasta is cooking, spray a skillet with non-stick cooking spray and sauté peas over medium heat until tender.
Combine ingredients into large salad bowl and mix well. Enjoy!

Recipe Yield: Yield: 4 servings
Nutritional Information Per Serving:
Calories: 308
Fat: 2 grams
Protein: 24 grams
Carbohydrates: 0 grams


Source: Dreamfields