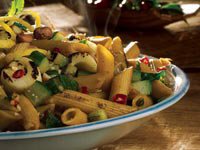 Ingredients

16 ounces Dreamfields Penne Rigate (one box)
3 tablespoons peanut oil
2 tablespoons chopped fresh mint leaves
2 small Thai peppers, minced
1 tablespoon fresh cilantro leaves plus 1 tablespoon for garnish
1/4 cup diced cucumber (1/3-inch dice)
1/2 cup hearts of palm in brine, drained
2 tablespoons unsalted chopped peanuts, divided
1 teaspoon lemon zest
3 tablespoons water
2 tablespoons soy sauce
1 tablespoon lemon juice

Directions

Cook pasta according to package directions.
Meanwhile, heat oil in 12-inch skillet over medium heat. Cook mint, peppers and cilantro 3 minutes, stirring often.
Add cucumber, hearts of palm, 1 tablespoon chopped peanuts and lemon zest. Pour in water, soy sauce and lemon juice. Cover and cook 5 minutes.
Drain pasta and add to pan. Toss well and cook 3 minutes longer over high heat. Top with garnish of cilantro and peanuts.
Notes:
Thai peppers are tiny, spicy and full of flavor. If you would like to bring down the heat a bit in this dish omit a portion of the peppers. If you like it spicy, two of these firecrackers are quite a kick.

Recipe Yield: Makes 6 servings.
Content Continues Below ⤵ ↷
Nutritional Information Per Serving:
Calories: 334
Fat: 10 grams
Fiber: 7 grams
Sodium: 378 milligrams
Protein: 12 grams
Carbohydrates: 0 grams


Source: Dreamfields