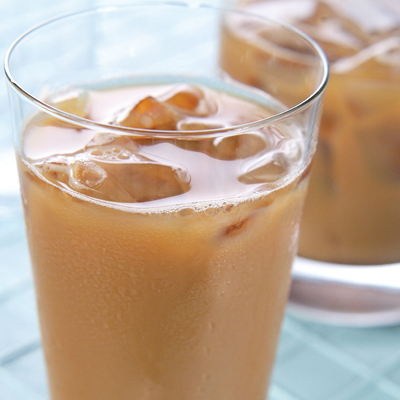 Ingredients

4 teaspoons Maxwell House Instant Coffee
3 Tablespoons Splenda No Calorie Sweetener, Granulated
1 teaspoon vanilla
1/2 teaspoon ground cinnamon
1/8 teaspoon ground allspice
1/4 cup warm water
2 cups non-fat milk
1 1/2 cups ice cubes

Directions

Place coffee, Splenda Granulated Sweetener, vanilla, cinnamon and allspice in pitcher.
Add water; stir until coffee granules are completely dissolved.
Stir in milk and ice cubes; pour evenly into 4 tall glasses, serving immediately.

Recipe Yield: Yield: 4 servings Serving size: 8 fl. oz.
Nutritional Information Per Serving:
Calories: 50
Sodium: 55 milligrams
Protein: 4 grams
Carbohydrates: 8 grams
Sugars: 5 grams


Source: Splenda
Recipe and image appear courtesy of Splenda.