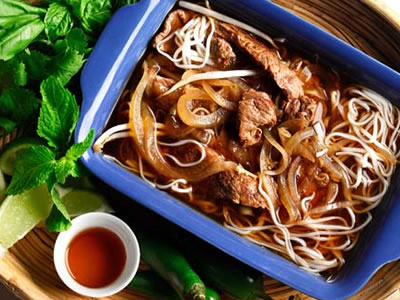 Ingredients

Soup Ingredients:

1/2 lb sirloin tip, sliced very thinly (250 g)
1-1/2 Tbsp canola oil, divided (20 mL)
1 small onion, sliced into thin rings
4 cups sodium-reduced beef stock (1 L)
2 cups water (500 mL)
1 Tbsp freshly grated ginger (15 mL)
1 stalk lemongrass chopped or 3 Tbsp (45 mL) dried lemongrass
1/2 tsp whole black peppercorns (2 mL)
1 cinnamon stick
4 oz ounces rice vermicelli noodles (125 g)
2 cups bean sprouts (500 mL )

Garnish Ingredients:

1 lime, quartered
1/2 cup each fresh basil, mint and cilantro (125 mL) each
1 small jalapeno pepper, thinly sliced (optional)
1 Tbsp fish sauce (15 mL)

Directions

In large saucepan, heat 1 Tbsp (15 mL) canola oil over medium heat. Add beef and cook for about 2-3 minutes. It wonÂ't be cooked through. Set aside.
Add 1/2 Tbsp (7.5 mL) canola oil to saucepan. Add onions and cook for about 3 minutes. Add beef stock, water, ginger, lemongrass, peppercorns and cinnamon stick, simmer for about 1 hour. (Broth can be prepared up to 2 days in advance and refrigerated, if preferred.)
Meanwhile, place rice vermicelli in bowl and cover with very hot water. Place lid on top and allow to sit for about 3 minutes.
Prepare garnish plate: Arrange limes, basil, mint, cilantro, jalapeno and small bowl of fish sauce on a plate.
Add beef to stock mixture and cook to desired doneness. To serve: Divide rice vermicelli and sprouts evenly in 4 bowls. Pour hot broth-beef mixture over top. Garnish as desired from the garnish plate.
Content Continues Below ⤵ ↷
Notes:
This recipe was inspired by Pho, a traditional Vietnamese soup. You can modify the recipe by using vegetable stock and tofu for a vegetarian version.

Recipe Yield: Yield: 4 servings. Serving Size: 1-1/2 cups (375 mL)
Nutritional Information Per Serving:
Calories: 270
Fat: 9 grams
Saturated Fat: 2 grams
Fiber: 3 grams
Sodium: 115 milligrams
Cholesterol: 35 milligrams
Protein: 20 grams
Carbohydrates: 27 grams