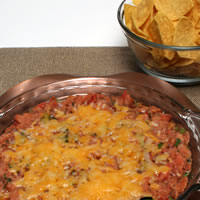 Ingredients

1 Tbsp. tomato paste
1 small tomato, seeded and chopped
1/2 cup mild, medium or hot chunky salsa
2 Tbsp. chopped cilantro
1/2 tsp. salt, or to taste
3/4 cup (3 ounces), shredded, reduced-fat Jack cheese
One (15-ounce) can pinto beans, rinsed and drained
2 tsp. canola oil
1/2 cup finely chopped onion
1 small jalapeno pepper, seeded and finely chopped
1 tsp. chili powder
1 tsp. unsweetened cocoa powder
1 tsp. ground cumin
1 tsp. dried oregano

Directions

Preheat the oven to 400 degrees. Coat a 9-inch pie plate with cooking spray and set aside.
In a food processor, whirl beans until pureed but still slightly lumpy. Scoop beans into a mixing bowl and set aside.
In medium skillet, heat oil over medium heat. Saute onion and jalapeno until onion is soft, 5 minutes. Add chili powder, cocoa, cumin, and oregano, and cook, stirring, until fragrant, 1 minute. Mix in tomato paste and cook for 30 seconds. Add contents of the pan to the pureed beans.
Add tomato, salsa, cilantro and salt, to beans and mix to combine all ingredients. Spread bean mixture in an even layer in the prepared pan. Sprinkle cheese over the top.
Bake until cheese is melted and bubbly and beans are heated through, 12 to 15 minutes. Serve immediately, accompanied by a bowl of baked tortilla chips.

Recipe Yield: Yield: Makes 8 servings.
Nutritional Information Per Serving:
Calories: 100
Fat: 3.5 grams
Saturated Fat: 1.5 grams
Fiber: 3 grams
Sodium: 370 milligrams
Protein: 5 grams
Carbohydrates: 11 grams