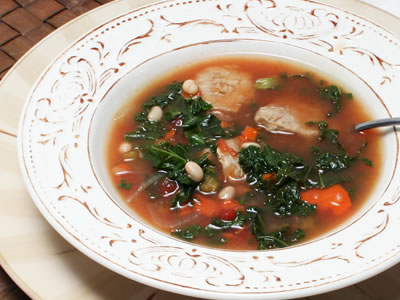 Ingredients

1/2 Tbsp. extra virgin olive oil
3/4 lb. pork tenderloin, trimmed, cut into 1-inch pieces
Salt and pepper to taste
1/2 medium onion, sliced thin
2 celery stalks, chopped fine
2 medium carrots, chopped fine
5 cloves garlic, minced
1-1/2 tsp. smoked paprika (regular paprika may be substituted)
1/4 tsp. red pepper flakes, or to taste
1 (15-oz.) can no-salt added diced tomatoes
3 cups reduced-sodium chicken broth
4 cups kale, ribs removed, chopped, lightly packed (collard greens may be substituted)
1 (15-oz.) can white beans, drained and rinsed

Directions

Heat oil in large pot over medium-high heat. Add pork, season with salt and pepper, and saute until browned, about 3 minutes. Transfer to plate and set aside.
Add onion, celery and carrots and saute until soft and beginning to brown, about 3 minutes. Add garlic, paprika and red pepper, and saute about 1 minute. Stir in tomatoes. Add broth and bring to boil.
Add kale and gently stir until it wilts. Reduce heat. Stir occasionally until kale is tender, about 4 minutes. Stir in beans and pork and simmer about 3 minutes. If too thick, add a small amount of water.

Recipe Yield: Makes 6 servings.Serving size: 1-1/2 cup
Nutritional Information Per Serving:
Calories: 207
Fat: 4 grams
Fiber: 5 grams
Sodium: 1115 milligrams
Protein: 21 grams
Carbohydrates: 23 grams