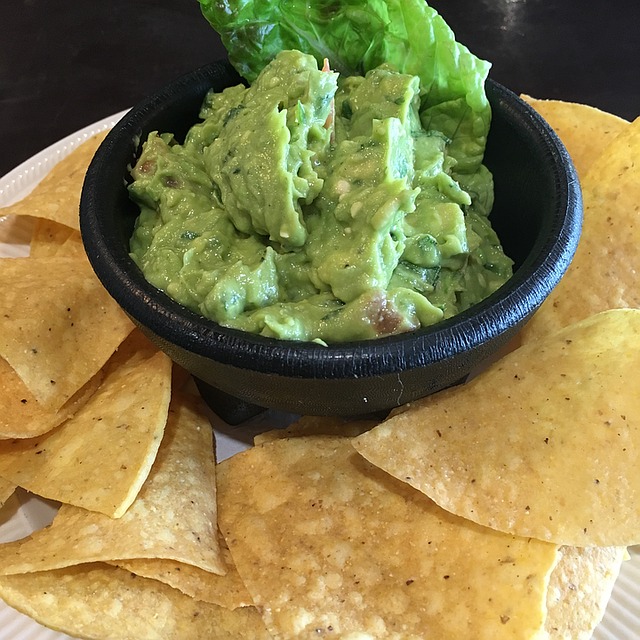 Ingredients
1-1/2 cups frozen peas
1 small ripe avocado, peeled, seeded, and cut into chunks
1 tablespoon reduced-fat mayonnaise
2 teaspoons lemon juice
1/2 teaspoon cumin
1/2 teaspoon chili powder
1 garlic clove, minced
1/2 cup mild or medium low-sodium or regular salsa
Directions
In a small saucepan, combine the peas and 1/4 cup boiling water. Cover, bring to a boil, and simmer 2 minutes. Cool in a colander until cold running water. Drain well.
In a food processor container, combine the peas, avocado, mayonnaise, lemon juice, cumin, chili powder, and garlic. Process until blended but not absolutely smooth, stopping and scraping the container sides, if necessary. Stir in the salsa.
Cover and refrigerate 1 to 2 hours or up to 24 hours to allow the flavors to blend. The dip will keep in the refrigerator 1 to 2 days. Serve with fat-free tortilla chips.

Recipe Yield: Yield: 14 servings ``Serving Size: 2 tablespoons each
Nutritional Information Per Serving:
Calories: 36
Fat: 2 grams
Fiber: 2 grams
Sodium: 42 milligrams
Cholesterol: 42 milligrams
Protein: 1 grams
Carbohydrates: 4 grams
Sugars: 2 grams

Content Continues Below ⤵ ↷
Diabetic Exchanges
1/2 Starch

Source: The Diabetes Snack, Munch, Nibble, Nosh Book
Book Title: The Diabetes Snack, Munch, Nibble, Nosh Book