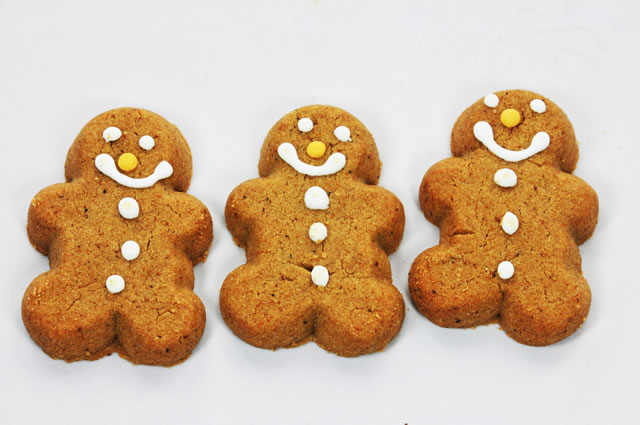 Recipe Yield: Yield: 54 servingsServing size: 1 cookie
Ingredients
6 cups all-purpose flour
1 teaspoon baking soda
1/2 teaspoon baking powder
4 teaspoons ground ginger
4 teaspoons cinnamon
1-1/2 teaspoons ground cloves
1 cup unsalted butter, softened
1 cup SPLENDA No Calorie Sweetener, Granulated
1 teaspoon salt
2 eggs
1 cup molasses
3 tablespoons water


Directions
Blend together flour, baking soda, baking powder, and spices in a large mixing bowl.
Cream butter, SPLENDA Granulated Sweetener and salt together in a large mixing bowl.
Add eggs one at a time, beating well after each addition. Add the molasses and water. Stir well. Add the flour mixture and stir until well blended.
Refrigerate dough 1-2 hours before rolling out and cutting into shapes.
Preheat oven to 350 degrees F.
Roll cookie dough out slightly less than 1/4 inch.
Cut into desired shapes.
Bake in preheated oven 8-10 minutes or until lightly browned on the bottom.
Decorate with sugarfree icing, if desired.

Nutritional Information Per Serving:
Calories: 100
Fat: 4 grams
Saturated Fat: 2 grams
Fiber: 1 grams
Sodium: 75 milligrams
Cholesterol: 15 milligrams
Protein: 2 grams
Carbohydrates: 16 grams
Sugars: 4 grams


Source: Splenda
Recipe and image appear courtesy of Splenda.