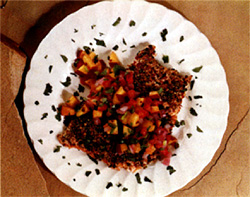 Ingredients

4 fresh California King Salmon fillets (six ounce)
1/4 cup mixed red, green, and black peppercorns, crushed
1/2 tsp. coriander seeds, crushed
1/3 cup sunflower oil

Fruit Salsa

1 Tbsp rice wine vinegar
1 Tbsp apple cider vinegar
1 Tbsp water
2 tsp granulated sugar
2 Tbsp red onion, coarsely diced
1 plum, pitted and diced
1 nectarine, pitted and diced
1 peach, pitted and diced
1 green onion, thinly sliced
1 roma tomato, peeled, seeded, and very finely diced
Red pepper flakes
Salt and pepper

Directions

Pepper Crusted Salmon:

Rinse the salmon fillets and set them aside.
Combine the crushed peppercorns and the coriander seeds in a shallow pan and mix well.
Press the top of each fillet into the mixture.
In a heavy frypan, heat sunflower oil until very hot.
Place the fillets, pepper-side down in the oil. Sauté until the salmon and the peppers are nicely browned.
Turn fillets and finish cooking, if necessary.
Serve immediately with the Summer Fruit Salsa (directions follow).

Fruit Salsa:

Content Continues Below ⤵ ↷

Combine vinegars, water, and sugars in a saucepan and bring to a boil, stirring until the sugar is dissolved. Add the red onions and return to a boil.
Remove the saucepan from the heat and let stand for about 10 minutes.
Drain the onions, retaining the brine and allow to cool.
In a small bowl, mix pickled onions, fruit, green onions, and the tomato together lightly with 1-1/2 tablespoons of the brine.
Sprinkle with the red pepper flakes and the salt and pepper to taste.
Refrigerate before using.

Recipe Yield: Servings: 4
Nutritional Information Per Serving:
Calories: 580
Fat: 37 grams
Sodium: 117 milligrams
Cholesterol: 148 milligrams
Protein: 47 grams
Carbohydrates: 13 grams


Source: California Salmon Council