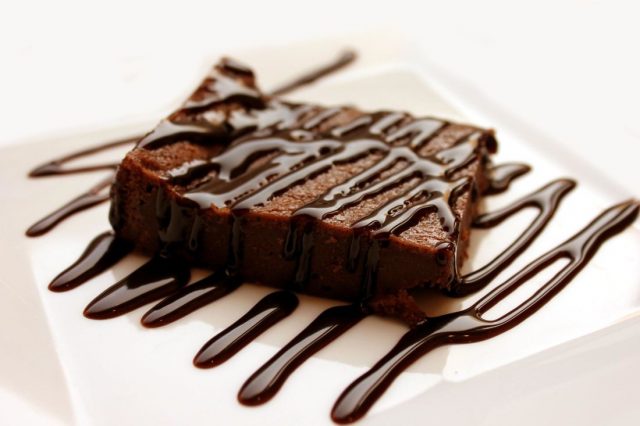 Recipe Yield: Servings: 24
Ingredients
Brownie Ingredients:

3/4 cup all-purpose flour
3/4 cup sugar
1/4 cup unsweetened cocoa
1/2 tsp baking powder
1/4 tsp salt
1/4 cup oil
2 tsp chocolate extract or flavor
2 eggs

Frosting Ingredients:

3/4 cup powdered sugar
1 T unsweetened cocoa
1 T skim or 2% milk
1/2 tsp chocolate extract or flavor
1/8 tsp butter flavor
Content Continues Below ⤵ ↷

Directions
Heat oven to 350F.
Grease bottom only of 8-inch square pan.
Combine all brownie ingredients in a medium bowl and mix well. Spread in greased pan.
Bake at 350 F. for 13-18 minutes, or until top is dry and springs back when touched lightly in center.
Cool for 15 minutes.
Meanwhile, combine all frosting ingredients in a small bowl & mix well.
Spread over top of slightly cooled brownies or cut brownies into squares and drizzle with frosting (as shown, adjust milk to get the right consistency).
Cool completely.

Nutritional Information Per Serving:
Calories: 80
Fat: 3 grams
Sodium: 50 milligrams
Cholesterol: 18 milligrams
Carbohydrates: 13 grams

Diabetic Exchanges
1/2 Bread/Starch, 1/2 Fat

Source: Cinnamon Hearts