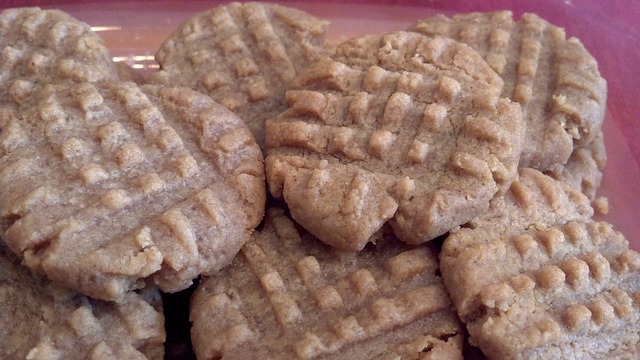 Ingredients

1/4 cup margarine, softened
1 cup creamy style peanut butter
1/4 cup egg substitute
2 tablespoons honey
1/2 teaspoon vanilla extract
1 cup Splenda Granular
1-1/2 cups all-purpose flour
1/2 teaspoon baking soda
1/2 teaspoon salt

Directions

Heat oven to 350?F.
In a large bowl, beat margarine and peanut butter with an electric mixer until creamy, approximately 1 minute.
Add egg substitute, honey and vanilla extract. Beat on high speed for approximately 1 1/2 minutes.
Add Splenda and beat on medium speed until well blended, approximately 30 seconds.
In small bowl, combine flour, baking soda and salt. Slowly add flour mixture to peanut butter mixture, beating on low speed until well blended, about 1 1/2 minutes. Mixture may be crumbly.
Roll level teaspoons of dough into balls and drop onto a lined sheet pan, about 2 inches apart. Flatten each ball with a fork, pressing a crisscross pattern into each cookie. Bake 7-9 minutes or until light brown around the edges. Cool on wire rack.

Recipe Yield: Yield: 24 cookies. Serving size: 2 cookies.
Nutritional Information Per Serving:
Calories: 140
Fat: 11 grams
Sodium: 110 milligrams
Protein: 3 grams
Carbohydrates: 9 grams

Content Continues Below ⤵ ↷
Diabetic Exchanges
Starch 1/2; Fat 2

Source: Splenda
Recipe and image appear courtesy of Splenda.