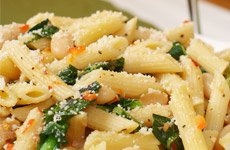 Ingredients
1 box uncooked Dreamfields Penne Rigate
2 tablespoons olive oil
1/2 cup diced red bell pepper
1 tablespoon minced garlic
1/4 to 1/2 teaspoon crushed red pepper flakes
1 cup reduced-sodium, fat free chicken broth
1 pound fresh collard or mustard greens, washed, trimmed and cut into large bite-sized pieces
1 can (15 ounces) cannellini beans, rinsed and drained (or other white beans)
Kosher salt and freshly ground black pepper to taste
Grated Parmesan cheese (optional)
Directions
Cook pasta according to package directions. Drain and return to pan.
Meanwhile, in large skillet, heat olive oil over medium-high heat. Add bell pepper, garlic and red pepper flakes; cook 1 to 2 minutes, stirring constantly. Add broth; bring to boil.
Add greens; return to boil. Cook 1 to 2 minutes, uncovered, until greens are just crisp-tender, stirring occasionally. Add greens with liquid to pasta; toss to coat. Add beans; toss gently. Adjust seasoning with salt and pepper. Top with grated Parmesan cheese, if desired.

Serving Note: Any dark, leafy greens such as kale, spinach or chard can be substituted for the collard greens. 1-1/2 cups cooked cannellini beans can be substituted for the canned beans.

Recipe Yield: Yield: 6 main dish servings
Nutritional Information Per Serving:
Calories: 336
Fat: 6 grams
Saturated Fat: 1 grams
Fiber: 11 grams
Sodium: 128 milligrams
Protein: 16 grams
Carbohydrates: 63 grams


Source: Dreamfields