Penne Recipes
Home / Diabetic Recipe Archive / Pasta Recipes
Penne Recipes
Penne is a short, tube shaped pasta, with ends cut at an angle. Penne also has ridges along the sides, which helps sauce cling to it. This section features recipes that contain penne, either as part of a dish or as the featured part of a dish. One cup of penne pasta contains about 43 grams of carbohydrate, 2.5 grams of fiber and 200 calories. It is low in fat. The penne recipes in this section provide nutritional information to help with diabetic meal planning.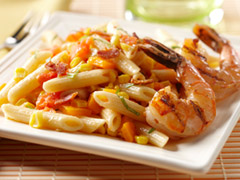 Recipe for Roasted Corn and Roma Tomato Salad from our Main Dishes recipe section.
Most Downloaded Recipes in this Collection
All Recipes from this Category

If you are entertaining this summer and need a simple yet elegant pasta dish to serve your guests, this is the one. This dish takes as long to prepare as you cook your pasta. Simply wonderful. Preparation Time: 15 minutes."Cook Time: 10 minutes. Recipe for Lemon-Herb Penne from our recipe section.

View / Load More from: Penne Recipes