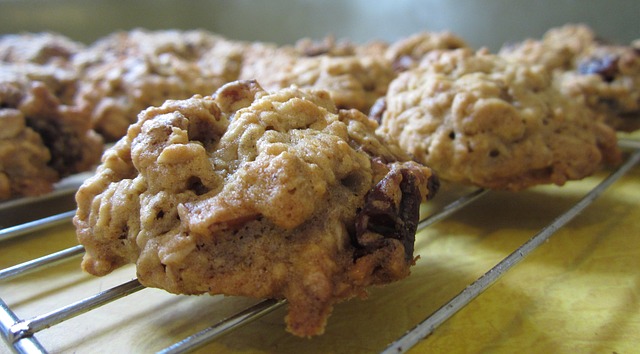 Ingredients

3 banana (ripe)
1/3 cup margarine
2 cups quick-cooking oats (uncooked)
1/4 cup skim milk
1/2 cup raisins
1 teaspoon vanilla extract

Directions

Preheat oven to 350 degrees.
Put the margarine in a small saucepan. Melt it on low heat.
Put all the ingredients in a mixing bowl. Mix really well.
Let the mix stand for about 5 minutes, until the oats are wet.
Lightly grease the cookie sheet.
For each cookie, spoon out about 1 tablespoon of dough and drop it onto the greased cookie sheet.
Bake the cookies for 15 to 20 minutes.
Let the cookies cool on the cookie sheet for about 1 minute.
Move the cookies to wire racks or a towel. Let them cool completely.

Recipe Yield: Yield: 15 servings
Nutritional Information Per Serving:
Calories: 110
Fat: 5 grams
Saturated Fat: 1 grams
Fiber: 2 grams
Sodium: 35 milligrams
Protein: 2 grams
Carbohydrates: 17 grams
Sugars: 7 grams


Source: PNEP