Raisin Recipes
Home / Diabetic Recipe Archive / Fruit Recipes
Raisin Recipes
Raisins are a good fruit source of fiber and iron. One ounce or raisins provides about 22 grams of carbohydrate. Raisins can be commonly found in desserts, cereals, muffins and salads. These recipes include raisins as an ingredient and include nutritional info to make your meal planning easier.
Recipe for Hot Cross Buns - Reduced Carb from our Breads recipe section.
Most Downloaded Recipes in this Collection
All Recipes from this Category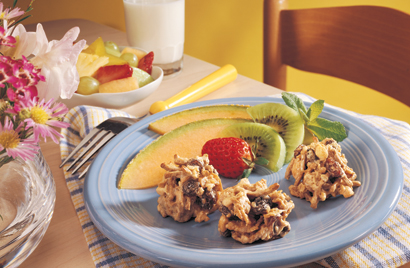 This hearty cookie is filled with lots of fiber and good flavor. Chunky peanut butter, oats, raisins and cornflakes provide fiber; a touch of honey, Equal and ground cinnamon add great flavor. Recipe for Peanut Butter Granola Bites from our Dessert recipe section.

View / Load More from: Raisin Recipes