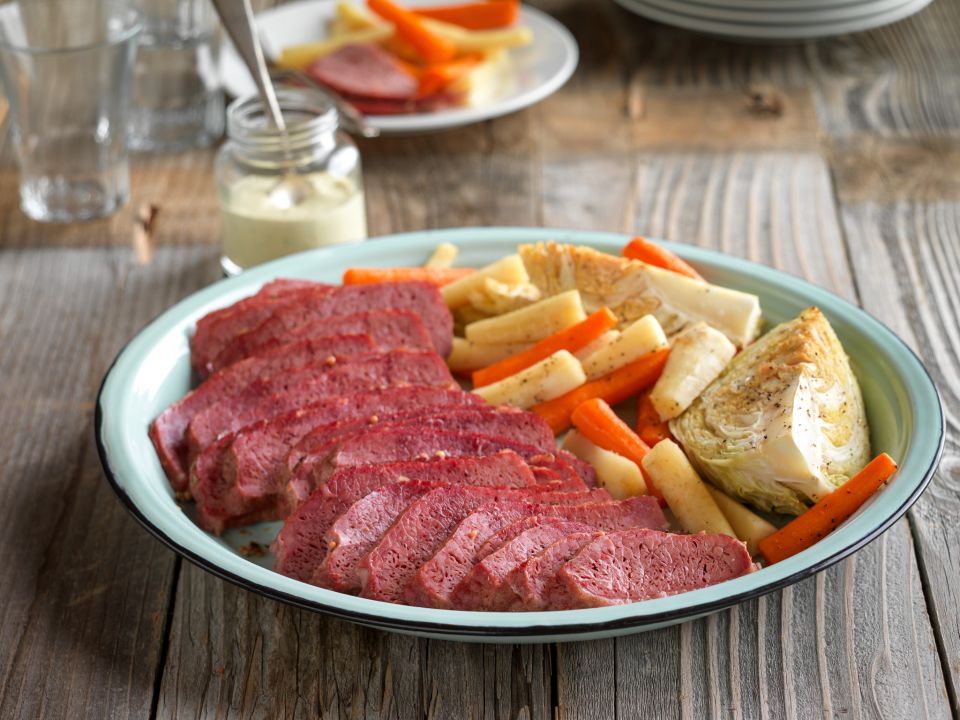 Ingredients

12 ounces cooked corned beef brisket, coarsely chopped
5 cups thinly sliced savoy cabbage (about 1 pound)
5 cups mixed salad greens (about 3-1/2 ounces)
3/4 cup reserved roasted parsnips
3/4 cup reserved roasted carrots
1/2 cup toasted chopped walnuts
Salt and pepper

Lemon-Dill Dressing:

1/2 cup reserved Lemon-Mustard Sauce
1 tablespoon sherry vinegar or white wine vinegar

Directions

Whisk Lemon-Dill Dressing ingredients in small bowl. Set aside.
Combine corned beef, cabbage, greens, carrots, parsnips and walnuts in large bowl.
Add Lemon-Dill Dressing; toss to coat evenly.
Season with salt and pepper, as desired.
Notes:
This recipe is an excellent source of fiber, protein, vitamin B6, vitamin B12, selenium and zinc; and a good source of niacin and iron. It is also high in fat and sodium and may not be a good choice for many restricted diets.
Content Continues Below ⤵ ↷

Recipe Yield: Makes 4 servings
Nutritional Information Per Serving:
Calories: 439
Fat: 33 grams
Saturated Fat: 9 grams
Fiber: 6 grams
Sodium: 1394 milligrams
Cholesterol: 93 milligrams
Protein: 22 grams
Carbohydrates: 19 grams


Source: TBC
Recipe and photo appears courtesy of Cattlemen's Beef Promotion Board.