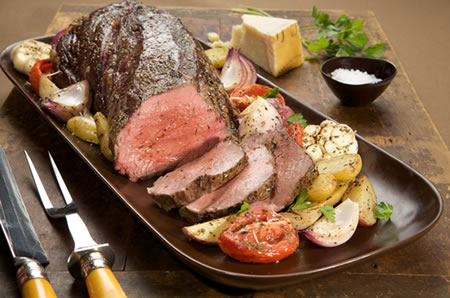 Ingredients

1 beef Tenderloin Roast (4 to 5 pounds)
1 large head garlic
2 tablespoons plus 1 teaspoon olive oil
2-1/4 pounds potatoes (such as fingerling, russet or red potatoes), quartered if large
4 small onions, halved
6 small plum tomatoes, halved
2 medium zucchini, sliced
2 teaspoons dried Italian seasoning, divided
1 teaspoon cracked black pepper, divided
1/4 cup plus 2 tablespoons grated Parmesan cheese, divided

Directions

Preheat oven to 425F.
Cut about 1/4 inch off top of garlic head, exposing cloves. Remove outer papery skin, leaving head intact.
Place in center of 12-inch square heavy-duty aluminum foil; drizzle with 1 teaspoon oil. Bring two opposite sides of foil over garlic; seal with double fold. Fold in open ends to seal.
Covmbine remaining vegetables, remaining 2 tablespoons oil, 1 teaspoon Italian seasoning and 1/2 teaspoon black pepper in large bowl; toss to coat.
Combine remaining teaspoon Italian seasoning and 1/2 teaspoon pepper; press evenly onto all surfaces of beef roast.
Place roast on rack in shallow roasting pan. Insert ovenproof meat thermometer so tip is centered in thickest part of beef. Do not add water or cover.
Place garlic, potatoes and onions on rimmed baking sheet.
Roast tenderloin in 425F oven 45 to 55 minutes for medium rare; 55 to 65 minutes for medium doneness.
Roast garlic, potatoes and onions 30 minutes.
Add tomatoes and zucchini to pan; continue to roast 15 minutes or until vegetables are tender.
Remove roast when meat thermometer registers 135F for medium rare; 145F for medium. Tent with foil. Let stand 20 minutes. (Temperature will continue to rise about 10-15F to reach 145F for medium rare; 160F for medium.)
Squeeze garlic pulp over vegetables; stir to combine. Sprinkle with 1/4 cup cheese, as desired.
Carve roast; sprinkle with remaining 2 tablespoons cheese. Serve with vegetables.
Notes:
Beef Tenderloin is the most tender cut of beef available. It is lean and boneless and is sold as a whole roast or a smaller center-cut roast. This roast also meets government guidelines for lean.

Recipe Yield: Makes 20 servings.
Content Continues Below ⤵ ↷
Nutritional Information Per Serving:
Calories: 215
Fat: 8 grams
Saturated Fat: 3 grams
Fiber: 2.4 grams
Sodium: 71 milligrams
Cholesterol: 55 milligrams
Protein: 22 grams
Carbohydrates: 14 grams


Source: TBC
Recipe and photo appears courtesy of Cattlemen's Beef Promotion Board.