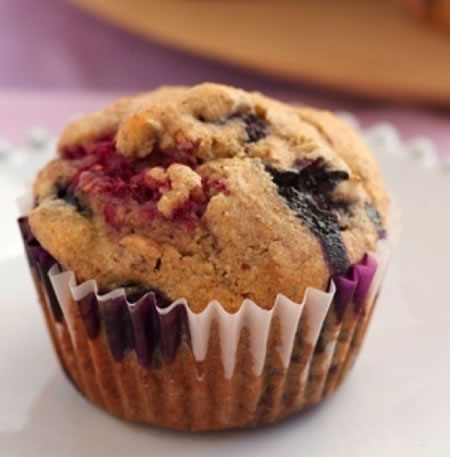 Ingredients

2-1/4 cups whole grain or wheat pastry flour
4 teaspoons baking powder
1/4 cup ground flaxseed
1/2 teaspoon salt
2/3 cup fresh blueberries
2/3 cup fresh raspberries
1 cup 2% milk
2 eggs
1/3 cup Splenda Sugar Blend
1/3 cup canola oil
1 teaspoon almond extract

Directions

Preheat oven to 400 degrees F. Line a 12-cup muffin pan with paper liners.
In a large bowl, combine flour, baking powder, flaxseed, and salt. Whisk to mix. Add berries and stir to coat.
In another bowl, combine milk, eggs, Splenda Sugar Blend, oil, and almond extract. With a fork, beat until smooth.
Pour egg mixture into berry mixture and gently mix with a fork to moisten the dry ingredients. Don't overmix (a few lumps in the batter are normal). Dollop 1/3 cup of batter into each of the prepared muffin cups.
Bake for 20 to 24 minutes, or until a wooden pick inserted into the center of a muffin comes out clean. Let stand for 5 minutes on a rack before serving.
Notes:
Fresh berries, nutty whole grains, and chewy flaxseeds combine for a delicious, lightly-sweetened muffin with a delightful texture.

Recipe Yield: Yield: 12 servings
Content Continues Below ⤵ ↷
Nutritional Information Per Serving:
Calories: 190
Fat: 9 grams
Saturated Fat: 1 grams
Fiber: 3 grams
Sodium: 280 milligrams
Cholesterol: 35 milligrams
Protein: 5 grams
Carbohydrates: 23 grams
Sugars: 8 grams


Source: Splenda
Recipe and image appear courtesy of Splenda.