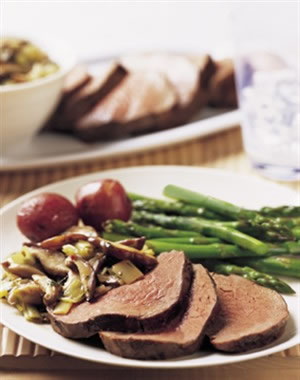 Ingredients

1 beef Tenderloin Roast Center-Cut (about 2 pounds)
1-1/2 teaspoons olive oil
2 medium shallots, chopped
1 tablespoon minced garlic
1 cup Marsala
1 can (14 ounces) ready-to-serve beef broth
3 tablespoons chopped fresh parsley
2 teaspoons cornstarch dissolved in 1 tablespoon water
Shiitake-Leek Compote:
6 medium leeks, cleaned, white and light green parts only, cut lengthwise in half
2 tablespoons butter, divided
2 cups sliced shiitake mushrooms
3/4 cup dry white wine
1 teaspoon fresh thyme leaves
1/4 teaspoon salt
1/4 teaspoon freshly ground black pepper

Directions

Heat oven to 425F.
Heat oil in large nonstick skillet over medium heat until hot. Place beef roast in skillet; brown evenly. Remove roast from skillet. Place on rack in shallow roasting pan. Season with salt and pepper, as desired.
In same skillet, add shallots and garlic; cook and stir 1 to 2 minutes. Add Marsala; cook and stir 6 to 7 minutes or until reduced by half. Add broth and parsley; bring to a boil. Pour into roasting pan around roast; brush surface of roast with broth mixture.
Insert ovenproof thermometer so tip is centered in thickest part of beef, not resting in fat. Do not add water or cover. Roast in 425F oven 35 to 45 minutes for medium rare; 45 to 50 minutes for medium. Baste with cooking liquid halfway through roasting.
Remove roast when meat thermometer registers 135F for medium rare; 145F for medium. Transfer roast to carving board; tent loosely with aluminum foil. Let stand 15 to 20 minutes. (Temperature will continue to rise about 10 to 15F to reach 145F for medium rare; 160F for medium.)
Pour pan drippings into small saucepan; bring to a boil. Stir in cornstarch mixture; cook and stir 1 to 2 minutes or until thickened. Remove sauce from heat. Set aside.
To prepare Shiitake-Leek Compote, slice leeks crosswise into 1/2-inch thick slices. Melt 1-1/2 teaspoons butter in large nonstick skillet over medium heat. Add leeks; cook, covered, 10 minutes, stirring halfway through cooking.
Add mushrooms, wine and thyme; cook, covered, 5 minutes.
Uncover skillet; continue cooking 10 minutes or until leeks are tender.
Stir in sauce; cook until heated through. Remove from heat; stir in 1-1/2 tablespoons butter, salt and pepper.
Carve roast into 1/2-inch thick slices.
Serve with Shiitake-Leek Compote.

Recipe Yield: Makes 8 servings
Nutritional Information Per Serving:
Calories: 333
Fat: 11 grams
Saturated Fat: 5 grams
Fiber: 2 grams
Sodium: 345 milligrams
Cholesterol: 77 milligrams
Protein: 27 grams
Carbohydrates: 21 grams


Source: TBC
Recipe and photo appears courtesy of Cattlemen's Beef Promotion Board.