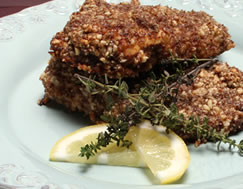 Ingredients

4 (4-oz.) boneless chicken breasts
1/4 cup almond meal (crushed almonds may be substituted)
2 Tbsp. ground flax meal
1/2 tsp. sea salt
1 Tbsp. olive oil
1 Tbsp. almond butter, optional
1 tsp. lemon juice
2 cloves garlic, minced
1/4 tsp. cayenne pepper or to taste
1/4 tsp. paprika
1 tsp. dried parsley
1 tsp. dried thyme
1 tsp. dried basil
1 tsp. dried oregano

Directions

Preheat oven to 350 degrees.
Using kitchen mallet, pound breasts uniformly flat, if desired.
Combine almond and flax meal and salt in small bowl and stir to mix uniformly.
Combine oil, almond butter (if using), lemon juice, garlic and all spices and herbs in medium bowl. Mix thoroughly. Add chicken to mixture and let marinate for at least 5 minutes.
Remove chicken from marinade and place on baking dish. Sprinkle half the almond-flax mixture evenly over chicken. Pat each breast with your hand to ensure it adheres and forms a crust. Gently turn over each breast, being careful not to disturb coating, and repeat the process using remaining almond-flax mixture.
Bake 25 to 30 minutes or until meat thermometer reaches 165 degrees when inserted into the chicken.

Recipe Yield: Makes 4 servings.
Nutritional Information Per Serving:
Calories: 210
Fat: 11 grams
Saturated Fat: 1.5 grams
Fiber: 2 grams
Sodium: 300 milligrams
Protein: 25 grams
Carbohydrates: 3 grams