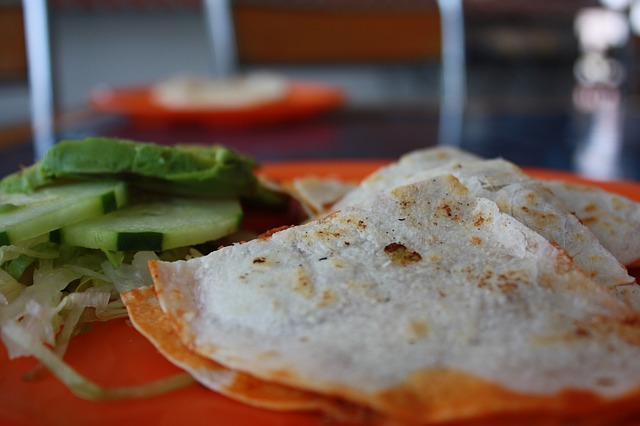 Ingredients

1 cup shredded Mexican Cheddar, Monterey Jack, Pepper Jack, or brick cheese
1 green onion, minced
1-3 tablespoons canned chopped green chilies (to taste)
4 8-inch flour tortillas
Chunky salsa, for topping or dip

Directions

In a medium bowl, toss together the cheese, green onion, and chilies; set aside.
Spray a medium skillet with nonstick cooking spray and place over medium heat.
When hot, add 1 tortilla and sprinkle it with one-fourth of the cheese mixture.
When the cheese begins to melt, about 1 minute, fold the tortilla in half.
Continue cooking until lightly browned and crisp on both sides, about 1 minute.
Transfer to a cutting board.
Repeat with the remaining tortillas and filling.
Cut into 4 wedges with a knife or pizza cutter and serve immediately with the salsa.

Recipe Yield: Yield: 8 servings (2 wedges)
Nutritional Information Per Serving:
Calories: 134
Fat: 6 grams
Fiber: 1 grams
Sodium: 211 milligrams
Cholesterol: 12 milligrams
Protein: 6 grams
Carbohydrates: 14 grams
Sugars: 1 grams

Content Continues Below ⤵ ↷
Diabetic Exchanges
1 Starch, 1 Fat

Source: Forbidden Foods Diabetic Cooking
Book Title: Forbidden Foods Diabetic Cooking