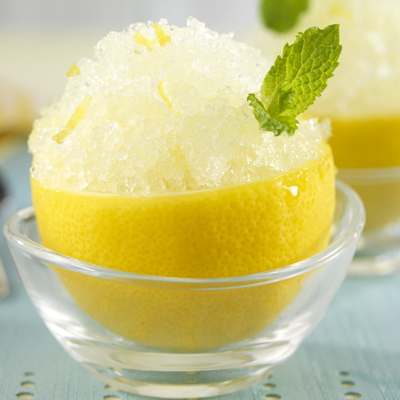 Ingredients

4 cups boiling water
12 packets Splenda Essentials No Calorie Sweetener with Fiber
1 tablespoon lemon zest
2/3 cup freshly squeezed lemon juice
8 lemons (for optional decorative serving)
8 sprigs fresh mint sprigs

Directions

Combine boiling water and Splenda Essentials No Calorie Sweetener with Fiber in a large bowl, stirring until dissolves; cool slightly. Stir in lemon rind and juice. Pour mixture into a 9-inch square pan; cover and freeze.
Cut tops from lemons; remove pulp. Set aside.
Remove sorbet from freezer; let stand about 10 minutes. Scrape sorbet surface with a spoon; scoop or spoon sorbet into lemon shells or into small serving dishes. Garnish with fresh mint, if desired
Notes:
Wow your guests with a tangy fresh lemon sorbet served in hollowed out lemons. Just don't tell them how fast and easy it was to make! Garnish with a sprig of mint for a great presentation.

Recipe Yield: Serves: 8Serving size: 1/2 cup
Content Continues Below ⤵ ↷
Nutritional Information Per Serving:
Calories: 30
Fiber: 7 grams
Sodium: 5 milligrams
Protein: 2 grams
Carbohydrates: 17 grams


Source: Splenda
Recipe and image appear courtesy of Splenda.