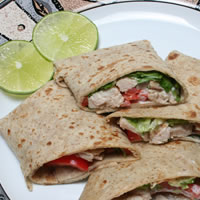 Ingredients

2 tsp. fresh lime juice
1 clove garlic, finely minced
1 tsp. finely chopped jalapeno pepper
3/4 pound turkey breast cutlets, diced
1/2 cup low-fat or fat-free plain yogurt
3/4 cup (packed) fresh cilantro leaves
6 large (10-inch) flour tortillas, preferably whole-wheat
1 Tbsp. canola oil
Salt and freshly ground black pepper, to taste
2 cups Romaine lettuce, cut crosswise into strips
1 cup red, green or yellow bell pepper, thinly sliced

Directions

Preheat oven to 350 degrees.
Combine lime juice, garlic and jalapeno in a bowl. Add turkey, turn to coat and set aside.
Purée yogurt and cilantro in food processor or blender until smooth. Transfer to a small bowl and set aside. (Sauce can be made ahead if refrigerated until ready to use. Remove from refrigerator early enough to bring sauce to room temperature before using.)
Wrap tortillas in foil and place in oven until warm, about 10 minutes. Meanwhile, heat a large non-stick skillet over high heat until very hot. Add oil and tilt pan to coat evenly. Add turkey and stir-fry, stirring constantly, until cooked through and lightly browned. Transfer to a medium bowl and sprinkle with salt and pepper.
On each tortilla, place a layer of shredded Romaine, and one-sixth of the turkey and the peppers. Add a spoonful of cilantro-yogurt sauce. Fold tortillas around filling and place on a serving platter. Serve with yogurt-cilantro sauce.

Recipe Yield: Makes 6 fajitas, 6 servings.
Nutritional Information Per Serving:
Calories: 174
Fat: 3 grams
Fiber: 3 grams
Sodium: 238 milligrams
Protein: 18 grams
Carbohydrates: 24 grams

Content Continues Below ⤵ ↷
Diabetic Exchanges
1-1/2 Bread/Starch, 3 Low-fat Meat