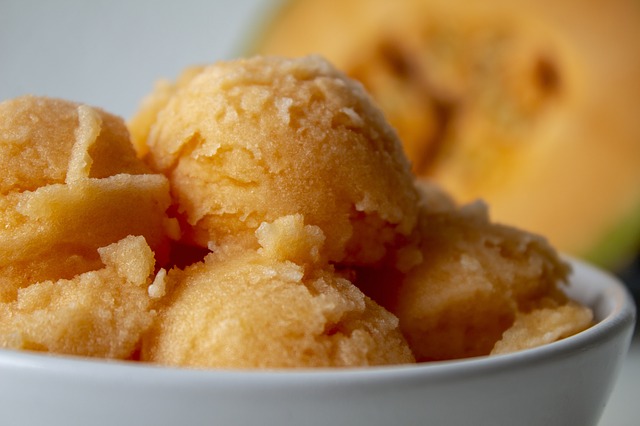 Ingredients
1 small cantaloupe, peeled, seeded, and cut into chunks
1 banana, sliced
1/4 cup Splenda Sugar Blend
2 tablespoons corn syrup
2 teaspoons creme de menthe liqueur
1 tablespoon fresh lime juice
2 teaspoons grated lime peel
1/4 teaspoon ground cinnamon
Directions
In a food processor or blender, combine all ingredients.
Process until smooth, then scrape into an ice-cream maker and freeze according to manufacturers directions. Or scrape into a shallow metal pan, cover, and freeze 4 to 6 hours.
Break mixture into chunks and pulse 10 to 20 seconds in food processor or just until no longer chunky and somewhat creamy in texture. Freeze up to 1 month. Pulse briefly in food processor just before serving.
Notes:
Here's a frozen treat to keep on hand for hot days.

Recipe Yield: Yield: 8 servingsServing Size: 2/3 cup
Content Continues Below ⤵ ↷
Nutritional Information Per Serving:
Calories: 80
Fiber: 1 grams
Sodium: 10 milligrams
Protein: 1 grams
Carbohydrates: 19 grams
Sugars: 9 grams


Source: Splenda
Recipe and image appear courtesy of Splenda.