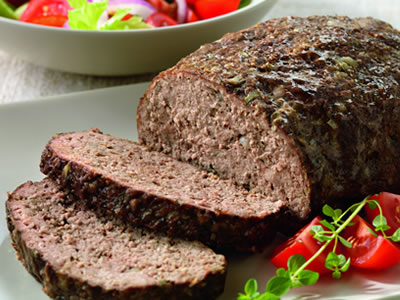 Ingredients

2 pounds 96% lean Ground Beef
1 cup soft bread crumbs*
3/4 cup finely chopped onion
1/2 cup 2% milk
1 large egg
1 tablespoon plus 1-1/2 teaspoons dried Greek seasoning, divided
1 cup low-fat or regular Greek-style yogurt
1/2 cup diced cucumber

* To make soft breadcrumbs: Tear several slices of fresh bread (French or whole wheat work well) into 1-inch pieces and pulse in a blender or food processor to make coarse crumbs. One slice of bread yields about 1/2 cup soft breadcrumbs.

Directions

Preheat oven to 350F. Combine Ground Beef, bread crumbs, onion, milk, egg, 1 tablespoon Greek seasoning in large bowl, mixing lightly but thoroughly.
Shape beef mixture into 10 x 4-inch loaf on rack in broiler pan. Bake in 350F oven 1-1/4 to 1-1/2 hours, until instant-read thermometer inserted into center registers 160F.
Meanwhile, combine yogurt, cucumber and remaining 1-1/2 teaspoons Greek seasoning in medium bowl. Set aside.
Let stand 10 minutes; cut into slices. Serve with cucumber-yogurt sauce.

Recipe Yield: Makes 8 servings
Nutritional Information Per Serving:
Calories: 187
Fat: 6 grams
Saturated Fat: 3 grams
Fiber: .4 grams
Sodium: 240 milligrams
Cholesterol: 95 milligrams
Protein: 26 grams
Carbohydrates: 6 grams


Source: TBC
Recipe and photo appears courtesy of Cattlemen's Beef Promotion Board.