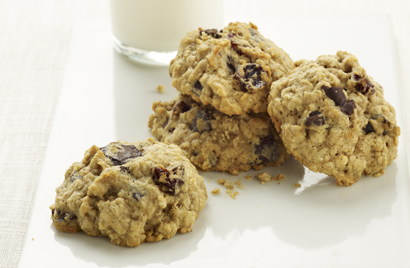 Ingredients

1-1/4 cups Equal Granulated*
1/2 cup butter, softened
1/2 cup firmly packed brown sugar
1/3 cup pasteurized egg whites
1/3 cup unsweetened applesauce
1/4 cup nonfat milk
2 teaspoons vanilla
1-1/2 cups all-purpose flour
1 teaspoon baking soda
1 teaspoon ground cinnamon
1/2 teaspoon ground ginger
1/4 teaspoon salt
2-1/4 cups quick oats, uncooked
1/2 cup dried cherries
1/2 cup chopped dark chocolate
Cooking spray

*May also substitute with 30 packets Equal Sweetener

Directions

Combine Equal, butter, brown sugar, egg whites, applesauce, milk and vanilla.
Mix with electric mixer until well blended. Stir in combined flour, baking soda, cinnamon, ginger and salt.
Gradually mix in oats, cherries and chocolate until well combined.
Drop by tablespoonfuls onto lightly sprayed baking sheets.
Bake in a preheated 350F oven for 9 to 10 minutes, or until light golden in color.
Remove from baking sheet and cool completely on wire rack.

Recipe Yield: Yield: 4 Dozen Cookies1 cookie per serving
Nutritional Information Per Serving:
Calories: 63
Fat: 2 grams
Sodium: 54 milligrams
Cholesterol: 3 milligrams
Protein: 1 grams
Carbohydrates: 10 grams

Content Continues Below ⤵ ↷
Diabetic Exchanges
1/2 starch; 1/2 fat

Source: Equal
Recipe and image appear courtesy of Equal.