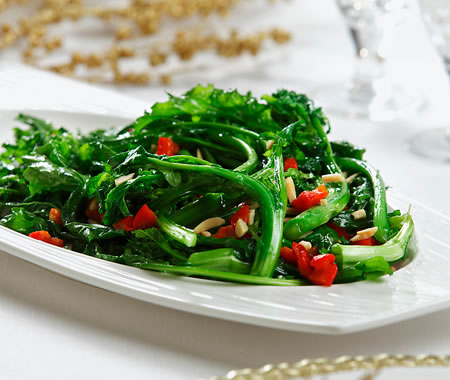 Ingredients

2 Tbsp canola oil (30 mL)
3 bunches rapini (broccoli rabe), about 3 1/4 lb (1.5 kg), rinsed, trimmed and cut into 3-inch (7.6 cm) pieces
3 large garlic cloves, minced or crushed
1/2 tsp salt (2 mL)
1-1/2 (375 mL) cups diced roasted red bell pepper, from one 12-oz jar (341mL)
3 Tbsp slivered almonds, toasted (45 mL)

Directions

Heat very large Dutch oven over medium-high heat. Add canola oil to pan; add rapini, garlic and salt. Toss well, reduce heat to medium-low and cover. Cook for 10 minutes or until rapini are tender, turning a few times while cooking.
Add roasted pepper and toasted almonds, toss and serve.
Notes:
Combining red and green vegetables is both festive and healthful. Sometimes rapini can taste a little bitter. If your rapini is on the bitter side, drizzle a tablespoon or so of balsamic vinegar on top of it.

Recipe Yield: Yield: 8 servings. Serving size: 1 cup (250 mL).
Content Continues Below ⤵ ↷
Nutritional Information Per Serving:
Calories: 110
Fat: 5 grams
Fiber: under 1 grams
Sodium: 55 milligrams
Protein: 7 grams
Carbohydrates: 11 grams


Source: Cheryl Forberg, R.D.