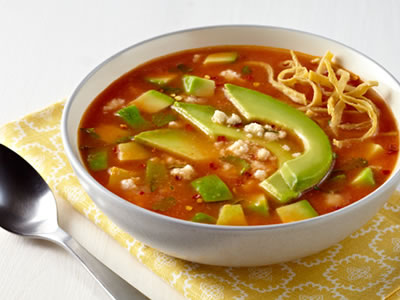 Ingredients

3 cans (14-ounces each) fat free, less salt (or lower sodium) chicken broth
2 cans (10.75-ounces each) low sodium, condensed tomato soup
1/2 bunch cilantro, leaves only
3 cloves garlic, finely chopped
1/2 tsp ground black pepper
1 ripe California avocado, seeded, peeled and cubed (Reserve 8 cubes for garnish)
8 corn tortilla chips, crumbled

Directions

In a large pan combine chicken broth, soup, cilantro, garlic, and pepper.
Bring to a boil, decrease heat, and simmer for 10 minutes.
Cool slightly, and puree in batches in a blender.
Return to pan, add avocado cubes and heat through.
Ladle into soup bowls and garnish with reserved avocado cubes and crumbled tortilla chips.
Serve.
Notes:
Serve with a crisp salad for a soup-and-salad meal.

Recipe Yield: Yield: 8 servings.
Content Continues Below ⤵ ↷
Nutritional Information Per Serving:
Calories: 142
Fat: 6 grams
Saturated Fat: 1 grams
Fiber: 2 grams
Sodium: 383 milligrams
Protein: 3 grams
Carbohydrates: 20 grams


Source: © Courtesy of California Avocado Commission.