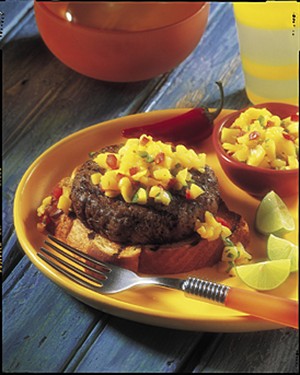 Ingredients

1-1/2 pounds 95% lean ground beef
2 tablespoons Caribbean jerk seasoning
Salt

Mango Salsa:

1 large mango, peeled, coarsely chopped (about 1 cup)
1 tablespoon chopped fresh cilantro
1 tablespoon chopped green onion
1 tablespoon finely chopped seeded jalapeno pepper
1 tablespoon fresh lime juice

Directions

Combine Ground Beef and jerk seasoning in large bowl, mixing lightly but thoroughly. Shape into four 3/4-inch thick patties.
Place patties on grid over medium, ash-covered coals. Grill, covered, 11 to 15 minutes (over medium heat on preheated gas grill, covered, 13 to 14 minutes), until instant-read thermometer inserted horizontally into center registers 160F, turning occasionally. Season with salt, as desired.
Meanwhile, combine salsa ingredients in medium bowl, mixing lightly. Serve burgers with salsa.

Note: Cooking times are for fresh or thoroughly thawed Ground Beef. Color is not a reliable indicator of Ground Beef doneness.

Recipe Yield: Makes 4 servings
Content Continues Below ⤵ ↷
Nutritional Information Per Serving:
Calories: 193
Fat: 6 grams
Saturated Fat: 3 grams
Fiber: 1.1 grams
Sodium: 51 milligrams
Cholesterol: 65 milligrams
Protein: 24 grams
Carbohydrates: 11 grams


Source: TBC
Recipe and photo appears courtesy of Cattlemen's Beef Promotion Board.