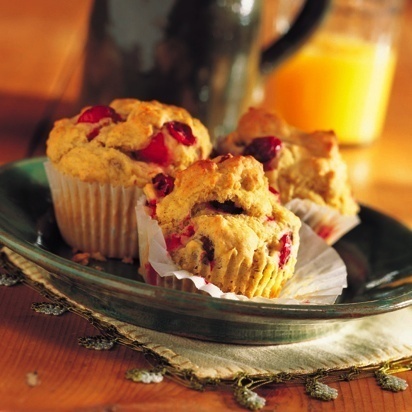 Ingredients

1-1/4 cups Splenda No Calorie Sweetener, Granulated
1-1/2 cups all-purpose flour
2 teaspoons baking powder
1 teaspoon baking soda
1/2 teaspoon cinnamon
2/3 cup buttermilk
1/4 cup butter, melted
2 large eggs
1 teaspoon grated orange zest
1/4 cup chopped walnuts
2/3 cup chopped fresh or frozen cranberries

Directions

Preheat oven to 375 degrees F. Spray 8 cups of a 12-cup muffin pan with butter-flavored cooking spray. Set aside.
Mix Splenda Granulated Sweetener, flour, baking powder, baking soda, and cinnamon together in a medium-sized mixing bowl. Set aside.
Mix buttermilk, melted butter, eggs and orange zest together in a small mixing bowl. Add to flour mixture. Mix gently to combine. Add walnuts and cranberries and stir until just blended.
Spoon batter into eight muffin cups. Bake in preheated 375 degrees F oven 20-25 minutes or until a toothpick inserted in the center comes out clean.
Notes:
These muffins are perfectly tart, sweet, and delicious – especially right out of the oven.

Recipe Yield: Yield: 8 ServingsServing Size: 1 muffin
Content Continues Below ⤵ ↷
Nutritional Information Per Serving:
Calories: 210
Fat: 10 grams
Saturated Fat: 4.5 grams
Fiber: 1 grams
Sodium: 320 milligrams
Cholesterol: 70 milligrams
Protein: 5 grams
Carbohydrates: 24 grams
Sugars: 5 grams


Source: Splenda
Recipe and image appear courtesy of Splenda.