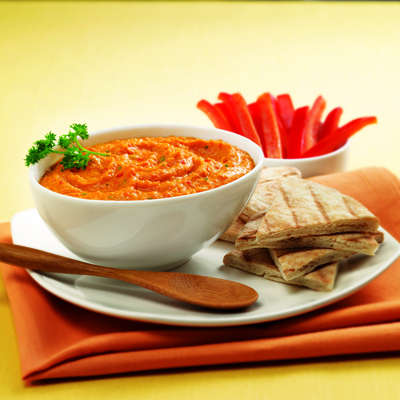 Ingredients

1 tablespoon extra virgin olive oil
2 tablespoons fresh lemon juice
1/2 teaspoon apple cider vinegar
2 tablespoons chopped fresh parsley
1/2 teaspoon salt
1/2 teaspoon cumin
2 tablespoons Splenda No Calorie Sweetener, Granulated
1 (19 ounce) can garbanzo beans, drained
2 cups chopped red bell pepper
olive oil-flavored cooking spray

Directions

Spray non-stick saute pan with olive oil spray.
Saute red peppers for 4 to 5 minutes. Set aside.
In food processor, add all ingredients including red peppers.
Puree for 1 minute, scrape the sides, and continue to puree until smooth.
Refrigerate until serving time.

Recipe Yield: Yield: 15 servings Serving size: 1/4 cup
Nutritional Information Per Serving:
Calories: 60
Fat: 1.5 grams
Fiber: 2 grams
Sodium: 190 milligrams
Protein: 2 grams
Carbohydrates: 10 grams
Sugars: 2 grams


Source: Splenda
Recipe and image appear courtesy of Splenda.