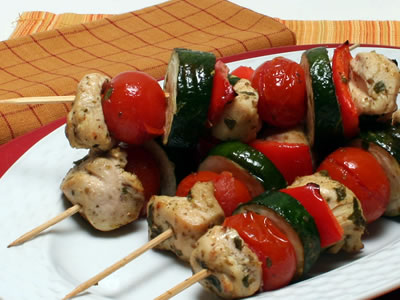 Ingredients

12 oz. chicken breast, boneless, skinless, cut into 12 even pieces
1 zucchini, cut into 8 slices
1 medium red bell pepper, cut into 8 pieces
8 cherry tomatoes

Marinade

1 Tbsp. extra virgin olive oil
2 Tbsp. apple cider vinegar
1 tsp. Dijon mustard (spicy brown may be substituted)
1/2 tsp. dried oregano
2 cloves garlic minced
2 Tbsp. fresh parsley, chopped
Salt and freshly ground black pepper to taste

Dressing

12 fresh mint leaves
1 cup frozen peas, cooked
1 Tbsp. extra virgin olive oil
1 clove garlic, minced
1/4 tsp. cumin
Juice of one lemon

Directions

Simple to prepare, tasty and full of nutritional goodness, these chicken kebabs are the perfect dish to kick off the summer grilling season. A minty dressing makes them delightful and special.

Content Continues Below ⤵ ↷

These kebabs were inspired by the eastern Mediterranean island of Cyprus, which has long been a crossing point between Europe, Asia and Africa. For this reason, Cypriot cuisine is a unique blend of many influences.

Marinating the chicken ensures flavorful, juicy kebabs. The blend of extra virgin olive oil, apple cider vinegar, mustard, oregano, garlic and parsley produces a perfect marinade.

Pureed peas and mint give the dressing an attractive pastel green base. Mint is abundant during summer and contains health-protective phytochemicals. Peas, one of summer's earliest crops, lend a light earthy quality and healthful fiber. Garlic, a hint of cumin, and refreshing lemon juice round out this summer dressing.

You can get a head start on these kebabs by marinating the chicken overnight. Then just assemble the kebabs the following day. Serve the kebabs with a garden salad dressed with a basic vinaigrette.

You can even add a side of seasoned black beans. Just saute some finely chopped scallions, diced tomato and minced garlic. Then add cooked beans and heat through. The result is a healthy, colorful and appetizing meal.

Recipe Yield: Yield: Makes 4 servings.
Nutritional Information Per Serving:
Calories: 200
Fat: 8 grams
Fiber: 3 grams
Sodium: 105 milligrams
Protein: 21 grams
Carbohydrates: 10 grams