Recipes with Mint
Home / Diabetic Recipe Archive / Herbs and Spices
Recipes with Mint
Mint isn't just for your breath – it's a great addition to many dishes, including appetizers, main dishes, drinks, desserts, side dishes and more. Mint is also very easy to grow, so have some fun this spring and plant some fresh mint. It grows great in containers. This area offers recipes like Spring Peas with Mint, Mint Cheesecake Bars and Tabouleh with Mint.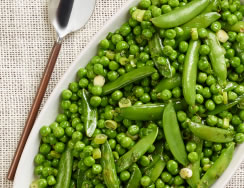 Recipe for Fresh Peas with Mint from our Side Dishes recipe section.
Most Downloaded Recipes in this Collection
All Recipes from this Category

Cooked smoked salmon or smoked turkey breast may be substituted for cooked salmon. Recipe for Salmon Pasta Salad with Mint and Lemon Vinaigrette from our Main Courses recipe section.