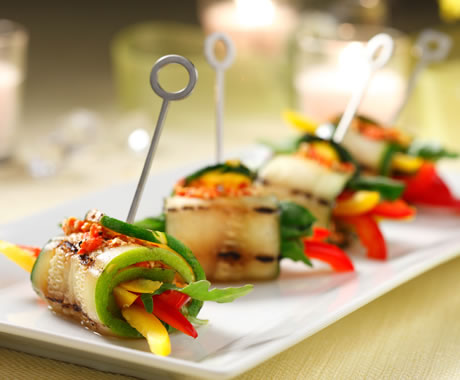 Ingredients
5 medium zucchini (about 8 oz/250 g each), cut lengthwise into 1/4-inch (0.6-cm) slices*
1 red, orange or yellow bell pepper, cut in half and seeded
1/2 medium red bell pepper, roasted and peeled, or use jarred*
2 Tbsp canola oil (30 mL)
1/3 cup crumbled feta cheese (75 mL)
1 Tbsp lemon juice (15 mL)
1/8 tsp freshly ground black pepper, plus more to taste (0.5 mL)
2 cups baby arugula leaves (2 oz/500 mL lightly packed) (60 g)
1/3 cup lightly packed fresh basil leaves (75 mL)
toothpicks
Directions
Preheat grill or grill pan over medium heat.
Set aside outermost slices of zucchini for another use. Brush inner slices of zucchini and bell pepper halves with canola oil on both sides. Grill until just tender, about 3 minutes per side. Remove from grill to cool and slice pepper halves into thin strips. Zucchini and pepper may be made day ahead and stored in airtight container in refrigerator.
In small bowl of food processor or mini-processor, place roasted red pepper, feta cheese and lemon juice. Process until mixture reaches spreadable consistency. It will not become completely smooth. Stir in black pepper.
Spread about 3/4 tsp (4 mL) of feta mixture onto zucchini slice. Place a few slices of bell pepper about 1/2 inch (1.25 cm) from end of zucchini slice, along with a few arugula leaves and one small or half of large basil leaf. Roll up and insert toothpick to hold roll. Repeat with rest of zucchini slices.
Serve immediately or store in airtight container in refrigerator for up to one day. Allow to come to room temperature before serving.

* Tips: Five medium zucchini yields just the right number of slices. Buy an extra zucchini if you would like to have some room for error. You can use jarred roasted red pepper instead of preparing your own but be sure to rinse and drain it really well to avoid extra liquid in the spread.
Notes:
Tender, grilled zucchini makes a delicious wrapper for crisp, colorful vegetables, fresh herbs and a creamy feta spread – all rolled into beautiful, bite-sized bundles. It is a true veggie celebration with grilled, roasted and fresh produce in each mouthwatering bite.

Recipe Yield: Yield: 8 servings (24 roll-ups).Serving size: 3 roll-ups.
Content Continues Below ⤵ ↷
Nutritional Information Per Serving:
Calories: 70
Fat: 5 grams
Saturated Fat: 1.5 grams
Fiber: 1 grams
Sodium: 135 milligrams
Cholesterol: 5 milligrams
Protein: 3 grams
Carbohydrates: 4 grams


Source: CanolaInfo
Recipe and image appear courtesy of CanolaInfo.org.