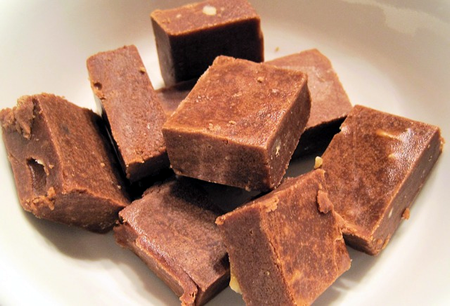 Ingredients

3 cups carob
1/4 teaspoon artificial sweetener
1 (14 -ounce) can sweet condensed milk (not evaporated milk)
1 cup chopped walnuts
1-1/2 teaspoon vanilla extract
48 walnut halves

Directions

In a heavy 2-quart saucepan, combine the carob, artificial sweetener and condensed milk. Cook over low heat until carob is completely melted. Remove from heat.
Add chopped walnuts and vanilla extract. Stir until completely mixed.
Pour into a 9" x 9" square pan. Chill in refrigerator until almost firm.
Score the top of the fudge into squares 2" x 1/2" deep. Place a walnut half on the top of each square.
Chill until firm. Finish cutting into squares.

Recipe Yield: Yield: 48 2-inch-square pieces, 1 piece per serving.
Nutritional Information Per Serving:
Calories: 137
Fat: 8 grams
Fiber: 0.3 grams
Sodium: 11 milligrams
Cholesterol: 4 milligrams
Protein: 4 grams
Carbohydrates: 13 grams

Content Continues Below ⤵ ↷
Diabetic Exchanges
1 Bread/Starch, 1-1/2 Fat

Source: The Diabetic Dessert Cookbook
Book Title: The Diabetic Dessert Cookbook