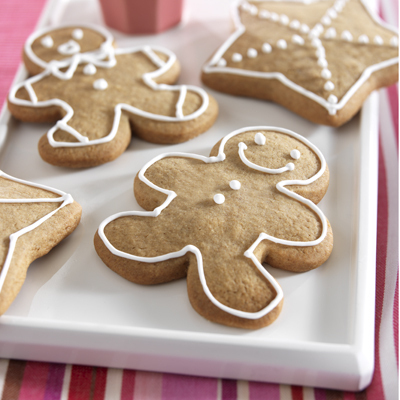 Ingredients
2 cups all-purpose flour
1/2 teaspoon baking soda
1/2 teaspoon salt
2 tablespoons ground ginger
1/2 teaspoon ground cinnamon
1/4 teaspoon ground allspice
3/4 cup unsalted butter, room temperature
1 cup Splenda Brown Sugar Blend
1 large egg
1 large egg yolk
Directions
Mix together flour, baking soda, salt, ginger, cinnamon and allspice into a medium bowl. Set aside.
Cream butter and Splenda Brown Sugar Blend in a large bowl until smooth. Beat in egg and egg yolk. Stir in dry ingredients and mix until dough forms. Shape dough into a disc, wrap, and refrigerate for 2 hours.
Preheat the oven to 350 degrees F. Line a cookie sheet with parchment paper.
Roll out dough to 1/4 inch thick on a lightly floured surface. Using a 4-inch cookie cutter, cut dough and place on cookie sheet.
Bake for 15 to 18 minutes. Allow cookies to cool for 2 minutes, then remove from pan and let cool completely on rack.

If you want to decorate with icing, use this sugarfree glaze recipe.

Recipe Yield: Yield: 30 servingsServing Size: 1 (4-inch) gingerbread cookie
Nutritional Information Per Serving:
Calories: 110
Fat: 5 grams
Saturated Fat: 3 grams
Sodium: 65 milligrams
Cholesterol: 25 milligrams
Protein: 1 grams
Carbohydrates: 13 grams
Sugars: 7 grams


Source: Splenda
Recipe and image appear courtesy of Splenda.